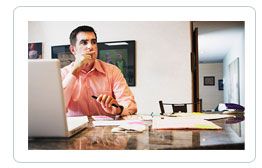 Denver Small Business Bankruptcy Attorneys
Colorado Business Debt Lawyers
Although our bankruptcy practice at Mile High Bankruptcy focuses primarily on consumer debt problems, our lawyers also serve the needs of small business owners whose commercial finances can threaten their personal security. To learn about our approach to small business bankruptcy, contact our office in Denver for a free consultation.
Call 303.837.1100 for a free consultation about your bankruptcy options
We concentrate on the needs of the people involved with small business debt problems. Our clients are usually sole proprietors, or individuals with small businesses, corporations or LLCs. In most cases, it's hard to separate the business finances from personal obligations.
Filing for Small Business Bankruptcy
Our main strategy in small business situations is to recommend a Chapter 7 petition for the individual or couple in their own name, with a "doing business as" title to the case. This allows clients to include all business and personal debts in one case. There is no means test for business Chapter 7 bankruptcy, but you still qualify for the personal exemptions.
This approach to small business bankruptcy is especially valuable for people who are potentially liable as cosigners or personal guarantors of business debt. One Chapter 7 case can take care of both the business obligations and the potential personal liability that the owner can face when the business is no longer profitable.
Chapter 11 reorganization is a longshot even for major corporations and is seldom advisable for a small business. It's too expensive, and it hardly ever works. If your sole proprietorship or family business has fallen on hard times, learn what Chapter 7 bankruptcy can do to stop the flow of red ink while protecting your personal assets from the claims of business creditors. Contact an attorney at Mile High Bankruptcy in Denver for a free consultation.
We are a debt relief agency. We help people file for bankruptcy relief under the U.S. Bankruptcy Code.
Common Tags: Denver Small Business Bankruptcy Lawyers, Info, Aurora Filing Chapter 7 Attorneys, Colorado Laws, File, Westminster Information, Options, Rules, CO